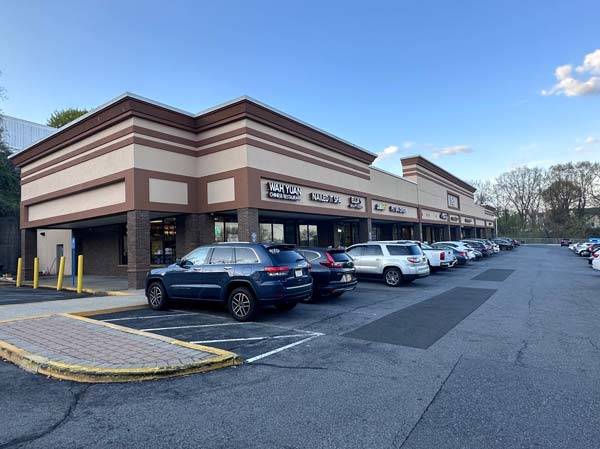 Nothing Bundt Cakes, Nailed It Spa and European Wax Join Tenant Roster at Recently Renovated, LA Fitness-Anchored Strip Center Along US Route 1
PORT CHESTER, NY (April 19, 2023) – Simone Development Companies has recently welcomed three new retail tenants that have leased more than 4,000 square feet of prime retail space at Post Road Plaza at 262 Boston Post Road (US Route 1) in Port Chester, NY. The nearly 63,000 square-foot strip center, anchored by a 40,572 square-foot stand-alone LA Fitness, has been recently renovated and new signage is being installed along the highly-trafficked shopping corridor.
Cake franchise Nothing Bundt Cakes has signed a long-term lease for 1,760 square feet at Post Road Plaza in space formerly occupied by a Kentucky Fried Chicken restaurant for the last 30 years.
They will celebrate their grand opening on Friday, April 28 with a special "Don Bosco's Community Center Benefit Day" in which 20% of sales will be donated to an organization dedicated to enabling all people, especially the young who need it most, to realize their fullest potential as productive, responsible and caring citizens.
In addition, growing local salon Nailed It Spa has signed a new lease for 1,000 square-feet and will open shortly, and expanding franchise European Wax Center, with more than 850 locations nationwide including nearby Hartsdale and New Rochelle, inked a 1,534 square-foot lease and has recently opened for business at Post Road Plaza. There is currently 1,000 square feet of inline retail and a 3,485 square-foot end cap space available at the property.
Joanna Simone, Principal and President of Leasing and Property Management Operations at Simone Development, arranged the transactions on behalf of ownership, along with Scott Meshil and Karnit Mosberg of Royal Properties, Inc., exclusive leasing agents for Post Road Plaza. Also assisting from Simone Development were Hannah Coyman and Rob Carinci for leasing, and Sean Heneghan and Patrick Doyle for legal.
Peter H. Levine of Charter Realty & Development represented Nothing Bundt Cakes; Chris Krzeminski
of CJ Pagano & Sons, Inc. represented Nailed It Spa; and Dan Demasi of Julia B. Fee Sotheby's International Realty represented European Wax Center in the lease negotiations.
"Simone Development is pleased to welcome Nothing Bundt Cakes, Nailed It Spa and European Wax Center to the tenant roster at our Post Road Plaza property, located along one of the most highly-trafficked retail corridors in the Northeast," said Ms. Simone.
Located minutes off of I-95 and I-287, with close proximity to the Hutchinson River Parkway, Post Road Plaza was recently renovated, with new pylon signage in progress, and includes free parking for 250 vehicles. In addition to anchor LA Fitness, existing tenants include Domino's Pizza, Subway, Pet Spa Center, Mattress Firm, Ella's Beauty Lounge, and Wei Wong Kitchen.
About Simone Development Companies
Simone Development Companies is a full-service real estate investment company specializing in the acquisition and development of healthcare, mixed-use, office, industrial, retail and residential properties. Headquartered at the Hutchinson Metro Center, it boasts a portfolio of over 7 million square feet throughout the Bronx, Manhattan, Queens, Long Island, Westchester County, Orange and Fairfield Counties and New Jersey. With services spanning acquisition, development, construction, finance, asset management, accounting, leasing and property management, Simone Development Companies is set apart by its vertically integrated management team, long-term asset ownership and its pursuit of visionary development.