BRONX, NY (April 2022) — Simone Development Companies the leading Bronx-based developer, has purchased Triangle Plaza Hub, a 50,000 square-foot grocery anchored retail and medical office condominium in the Bronx's Mott Haven neighborhood for $32 million from Triangle Equities.
Steven Rutman, Rob Hinckley, Karl Brumback, Andrew Scandalios and Madison Warwick of JLL represented the seller in the transaction.
Located at 459 East 149th Street, Triangle Plaza Hub features a healthcare and food-centric tenant-mix anchored by Fine Fare supermarket and Sun River Health. Other tenants at the property include DaVita, Dunkin, Boston Market and VistaSite Eyecare. The LEED certified complex was built in 2015 and is 97% occupied, with just 1,522 square feet available for rent. Metropolitan College of New York occupies 26,000 square feet at the property under separate ownership.
"Simone Development is extremely excited to add this mixed-use property to our portfolio. Supermarket and healthcare anchored centers provide essential services to the neighborhood that work well together and these assets proved to be extremely durable investments during the pandemic," said Joseph Simone, president of Simone Development Companies. "Located in one of the Bronx's fastest growing neighborhoods, Triangle Plaza Hub provides essential healthcare and retail amenities to the community."
Triangle Plaza Hub is situated on a prime corner in a highly trafficked neighborhood and located within a three-minute walk of the 149th Street station serving the #2 and #5 subway lines. The property's on-site parking offers tenants and customers convenient accessibility.
BRONX, NY (March 2022) — Simone Development Companies has announced that Cap't Loui Seafood Boil has signed a 2,123-square-foot, long-term lease at Throggs Neck Shopping Center in the Ferry Point section of The Bronx. This is the seafood restaurant's fifth location in New York, which is expected to open to the public in Spring of 2022.
Karnit Mosberg of Royal Properties represented both the tenant and the owner in the deal.
"We are thrilled to welcome Cap't Louis Seafood Boil to the highly successful Throggs Neck Shopping Center," said Josh Gopan, Assistant Vice President of Leasing for Simone Development. "The shopping center has maintained its position as one of the most successful retail destinations in the Bronx due to its remarkable accessibility, plentiful parking, and diverse roster of tenants. Since its construction by Simone in 2010, the shopping center has created hundreds of new jobs and been responsible for boosting the area's local economy. We are proud to see how Throggs Neck continues to be extremely attractive for retailers and shoppers alike."
Cap't Louis Seafood Boil joins an extensive and diverse roster of tenants including retailers Target, TJ Maxx, Petco, Party City, and Skechers as well as restaurants Charleys Philly Steaks, Starbucks, Applebee's, Subway, Chipotle, Sarku Japan, among others. Throggs Neck Shopping Center is now 98% occupied, with just 6,404 square feet of space available for lease.
Throggs Neck Shopping Center is conveniently located at the intersection of Lafayette Avenue and the Hutchinson River Parkway. The borough's 300,000-square-foot, large-scale retail development boasts secure free parking for over 600 cars and is anchored by a 165,000+ square-foot Target department store.
BRONX, NY (February 2022) — Simone Development Companies.Landscaping, urban design and public amenities are essential elements in successful life-sciences development, said Joseph Simone of Simone Development Companies.
"As we've seen at the emerging Manhattanville Factory District in West Harlem, the construction of a three-block pedestrian greenway along buildings containing wet labs and offices will enhance this innovation corridor, making it more attractive to tenants and their employees," said Joseph Simone, president of Simone Development Companies.
West Harlem's growth is fueled by Columbia University's and the Manhattanville Factory District's expansion into the formerly industrial neighborhood, transforming it into an educational and technological hub. The Manhattanville area lies north of 125th Street and east of Adam Clayton Powell Jr. Boulevard.
"Outdoor people habitats are important to technology and life-sciences companies because they employ knowledge workers who must be inspired to achieve breakthroughs," said Joseph Simone. "These employees' ah-ha moments can happen on a bike trail, in a flower garden or a beautifully designed public plaza."
Published renderings for the Manhattanville Factory District greenway include trees, public seating and lawns that invite picnics or sunbathing. Simone Development Companies is pursuing a similar strategy at its Hutchinson Metro Center in the Bronx. The Hutchinson Metro Center's proposed South Campus will include ball fields, lawns, seating areas and a greenway through the center of the development. The complex already has a health club, hotel and bicycle trails running along the Hutchinson River Parkway.
"Our proposed South Campus incorporates the latest thinking in public-space design," said Joseph Simone. "We believe our landscaped and recreational areas will be must-have amenities for the medical technology and life-sciences firms that this complex will attract."
NEW ROCHELLE, NY (January 24, 2022) — Simone Development Companies has announced My Salon Suite has signed a 7,345-square-foot lease at the firm's property located at 80 Nardozzi Place in New Rochelle, NY. Katelin Vanvoorhis and David Scotto of RM Friedland LLC, represented ownership in the lease negotiations, while My Salon Suite was repped by Thomas R. Zuber with Fairfield Retail Partners LLC.
With a franchise spanning over 5,000 members in over 200 locations in the U.S., My Salon Suite's latest location is poised to continue expanding on their brand and their goal to revolutionize the salon industry. "My Salon Suite was attracted to 80 Nardozzi Place due to its convenient location, plentiful parking and design details including remarkable 25′ clear ceiling heights and signage along I-95. We are excited to welcome My Salon Suite to this space in New Rochelle," said Joanna Simone, Principal & Vice President of Leasing for Simone Development.
Simone Development's 80 Nardozzi Place is a modern commercial property with 44,0000 square feet of retail space. The property, which underwent a complete façade renovation in 2020 and offers great highway visibility, features ample on-site parking in an ideal location off I-95 and Main Street in New Rochelle. There is currently 16,500 square feet of prime retail space available for lease at the property according to Mr. Scotto of RM Friedland LLC, exclusive leasing agent for 80 Nardozzi.
My Salon Suite joins Ashley Furniture Home Store at 80 Nardozzi and LA Fitness and Cost Depot Wine & Liquor at nearby 70 Nardozzi, a 70,000 square-foot free-standing property developed by Simone Development and G&S Investors in 2021. The property is also adjacent to several popular retailers including Costco, Home Depot, CVS, Bank of America, and Land Rover & Jaguar. For more information on My Salon Suite visit https://www.mysalonsuite.com/.
BRONX,NY (December 01, 2021) — Senior executives of Simone Development Companies joined with Yonkers Mayor Mike Spano and members of the Yonkers City Council for the annual holiday tree lighting ceremony held December 2nd at Simone Development's Boyce Thompson Center in Yonkers.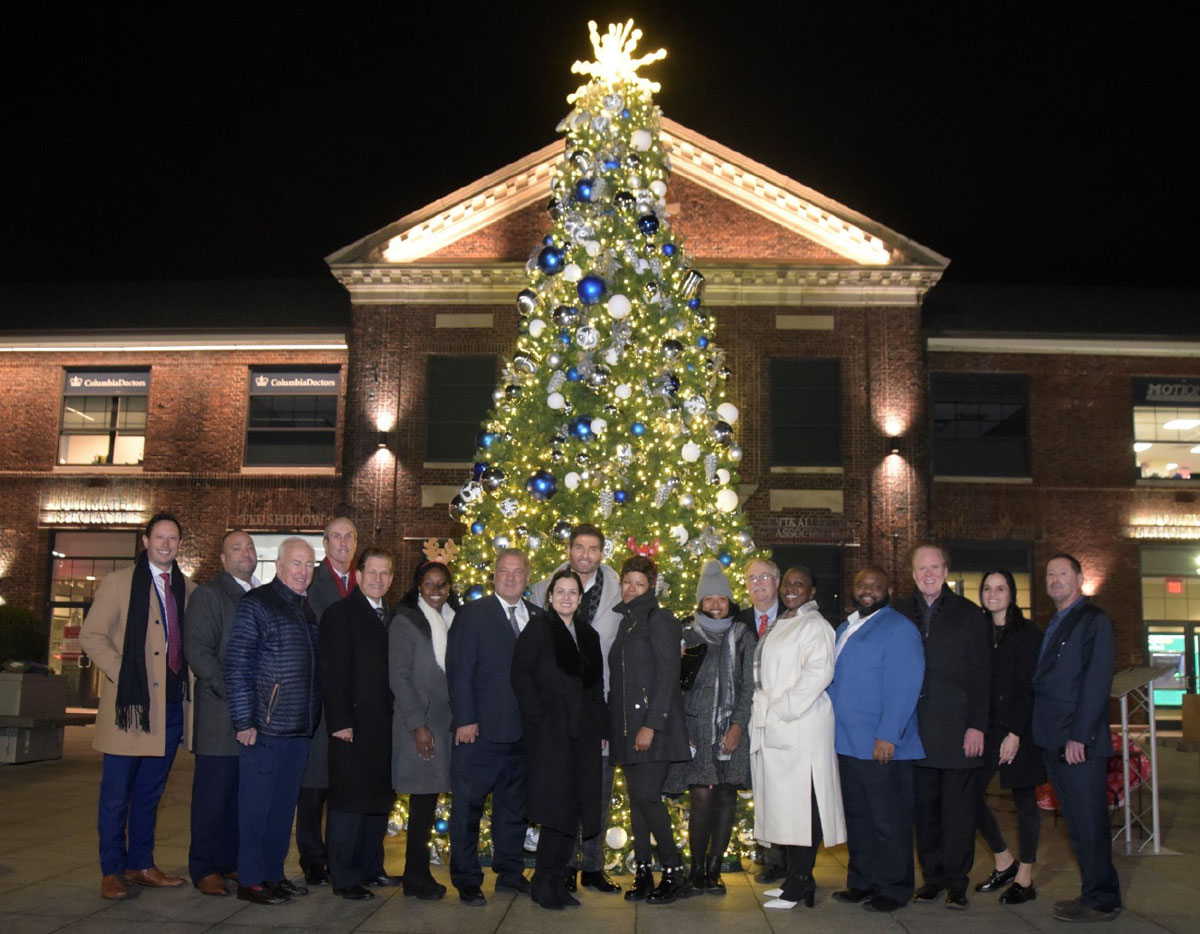 Pictured from left, Councilman John Rubbo; David Sanchez from the office of Council President Mike Khader; William Mooney, Director of Community and Institutional Relationships; Kevin Plunkett, Director of Strategic Initiatives; Councilman Anthony Merante; Councilwoman Shanae Williams; Mayor Mike Spano; Patricia Simone, Principal and President of Simone Management Group; Joseph Simone, President of Simone Development; Councilwoman Tasha Diaz; Councilwoman Corazon Pineda-Isaac; Councilman Mike Breen; Council President-Elect Lakisha Collins-Bellamy, County Legislator Chris Johnson; Joseph Kelleher, President of Simone Metro Properties; Joanna Simone, Principal and President of Leasing and Property Management Operations; and Guy Leibler, President of Simone Healthcare Development.
BRONX, NY (October 12, 2021) — Consumers are increasingly traveling to shopping centers for a checkup or vaccine as health care providers seek more convenient locations, said Joseph Simone of Simone Development Companies.
"Across the country, health providers are converting former Sears buildings in shopping centers into ambulatory surgical centers, hospitals and doctors' offices," said Joe Simone, President of Simone Development Companies. "CVS Health's announcement earlier this year that it will remake hundreds of its stores into primary care clinics will bring health care to even more shopping centers nationwide."
Simone Development Companies anticipated the delivery of healthcare at shopping centers with the adaptive reuse of the Boyce Thompson Center, an 85,000 square-foot, mixed-use center with doctors' offices, restaurants and retail in Yonkers, N.Y.
"Redeveloping shopping centers and strip malls with health care tenants makes sense because these properties are already designed to handle high-traffic uses and they provide ample parking," said Simone. "More importantly, these local shopping centers are typically situated within walking distance or an easy commute from residential neighborhoods."
It is unclear how many Sears locations are being converted for health uses, but there are examples of this conversion nationwide, including Selinsgrove, Penn.; Garden City, N.Y.; and Riverside, Calif. Simone noted that CVS Health's goal to turn hundreds of its stores into primary care centers poses challenges to medical networks whose patients must wait weeks for routine health services.
"The CVS announcement is triggering a reconsideration of site uses everywhere. The recent decision by Yale New Haven Health System to build an ambulatory care center in a shuttered Macy's store in Meriden, Conn. is an example of large health networks responding to CVS's retail health strategy," said Joseph Simone. "This shopping center land rush by health providers is a boon for health facility builders like Simone Development Companies."