NEW ROCHELLE, NY (January 24, 2022) — Simone Development Companies has announced My Salon Suite has signed a 7,345-square-foot lease at the firm's property located at 80 Nardozzi Place in New Rochelle, NY. Katelin Vanvoorhis and David Scotto of RM Friedland LLC, represented ownership in the lease negotiations, while My Salon Suite was repped by Thomas R. Zuber with Fairfield Retail Partners LLC.
With a franchise spanning over 5,000 members in over 200 locations in the U.S., My Salon Suite's latest location is poised to continue expanding on their brand and their goal to revolutionize the salon industry. "My Salon Suite was attracted to 80 Nardozzi Place due to its convenient location, plentiful parking and design details including remarkable 25′ clear ceiling heights and signage along I-95. We are excited to welcome My Salon Suite to this space in New Rochelle," said Joanna Simone, Principal & Vice President of Leasing for Simone Development.
Simone Development's 80 Nardozzi Place is a modern commercial property with 44,0000 square feet of retail space. The property, which underwent a complete façade renovation in 2020 and offers great highway visibility, features ample on-site parking in an ideal location off I-95 and Main Street in New Rochelle. There is currently 16,500 square feet of prime retail space available for lease at the property according to Mr. Scotto of RM Friedland LLC, exclusive leasing agent for 80 Nardozzi.
My Salon Suite joins Ashley Furniture Home Store at 80 Nardozzi and LA Fitness and Cost Depot Wine & Liquor at nearby 70 Nardozzi, a 70,000 square-foot free-standing property developed by Simone Development and G&S Investors in 2021. The property is also adjacent to several popular retailers including Costco, Home Depot, CVS, Bank of America, and Land Rover & Jaguar. For more information on My Salon Suite visit https://www.mysalonsuite.com/.
BRONX, NY (January 4, 2022) — Simone Development Companies has announced that Phelps Hospital – Northwell Health has signed a 4,658-square-foot office lease at the firm's 1034 North Broadway property in Yonkers, NY. The property is now fully leased, at 100% occupancy. Ownership was represented by Jillian Reiner of RM Friedland while the tenant was represented by Robert Lella and Darren Leiderman from Colliers International.

The mixed-use retail/office property at 1034 North Broadway was acquired by Simone Development in 2014 and will undergo exterior renovations in 2022. Interior lobbies, common areas and restrooms were upgraded in 2020.
In addition to Phelps Hospital – Northwell Health lease, Trust Specialty Pharmacy has announced the upcoming opening of a 3,854 square-foot, state of the art facility at the property, scheduled for January 2022.
Phelps Hospital – Northwell Health joins several medical tenants in the building including Upright Imaging of Westchester, Eden Dental, Executive Park Orthopedic & Sports Physical Therapy, Trust Specialty Pharmacy, Diabetes & Thyroid PLLC, and Family Medicine of Westchester. The property is also close to multiple medical tenants and amenities ranging from Boyce Thompson Center and St. John's Riverside Hospital to the Courtyard Marriott, Residence Inn, and Applebee's.
"We are thrilled to welcome quality tenants like Phelps Hospital – Northwell Health and Trust Specialty Pharmacy to 1034 North Broadway, a prime office and medical building in an ideal location, minutes away from Saw Mill Parkway and I-87 as well as the Greystone Metro-North Station," said Joanna Simone, Vice President of leasing and Property management Operations at Simone Development. "On top of the property's convenient location, the upcoming exterior renovations will continue to position the building as a premier medical property in Yonkers."
BRONX,NY (December 01, 2021) — Senior executives of Simone Development Companies joined with Yonkers Mayor Mike Spano and members of the Yonkers City Council for the annual holiday tree lighting ceremony held December 2nd at Simone Development's Boyce Thompson Center in Yonkers.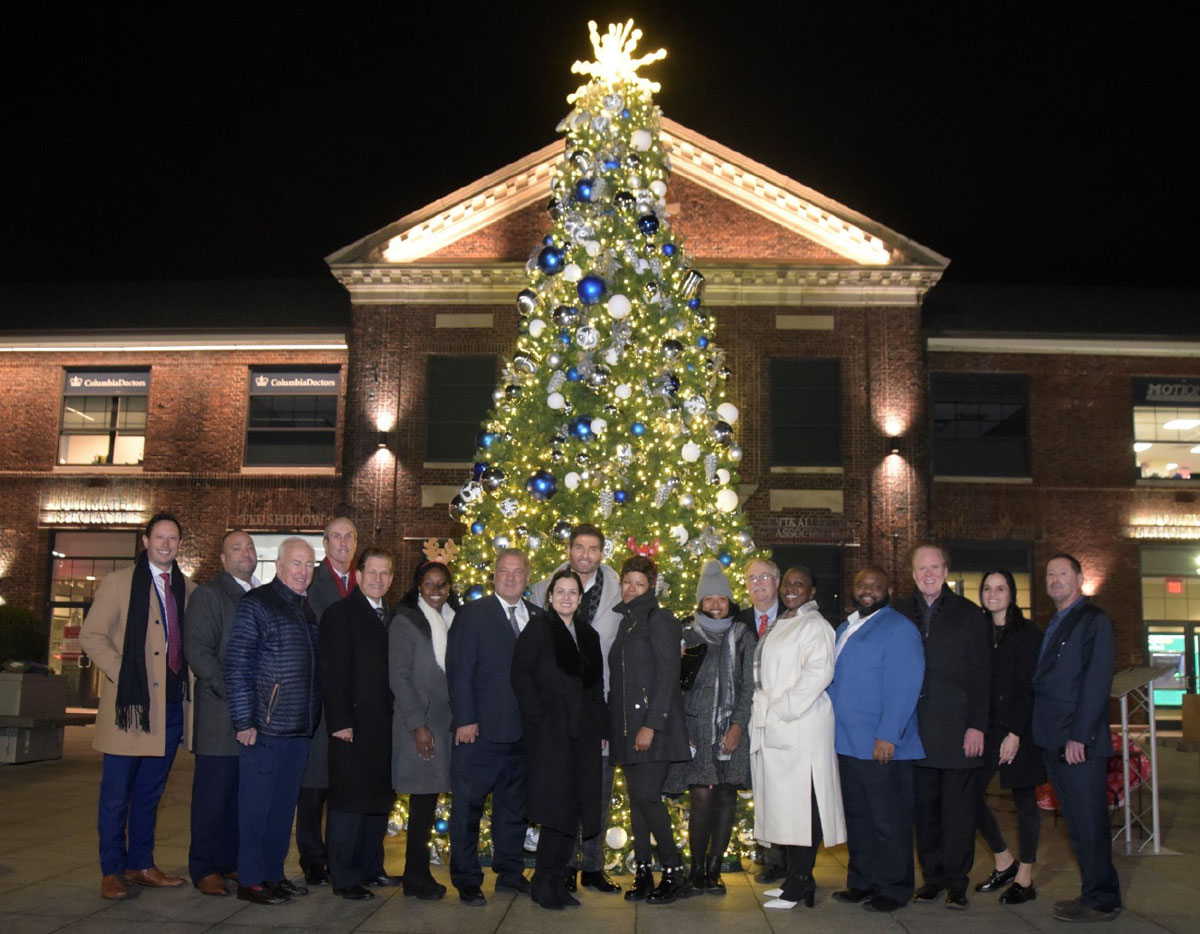 Pictured from left, Councilman John Rubbo; David Sanchez from the office of Council President Mike Khader; William Mooney, Director of Community and Institutional Relationships; Kevin Plunkett, Director of Strategic Initiatives; Councilman Anthony Merante; Councilwoman Shanae Williams; Mayor Mike Spano; Patricia Simone, Principal and President of Simone Management Group; Joseph Simone, President of Simone Development; Councilwoman Tasha Diaz; Councilwoman Corazon Pineda-Isaac; Councilman Mike Breen; Council President-Elect Lakisha Collins-Bellamy, County Legislator Chris Johnson; Joseph Kelleher, President of Simone Metro Properties; Joanna Simone, Principal and President of Leasing and Property Management Operations; and Guy Leibler, President of Simone Healthcare Development.
BRONX,NY (Sept 13, 2021) — An explosive growth in minimally invasive cosmetic procedures is influencing the design of dermatologists' and plastic surgeons' offices, according to Joe Simone, President of Simone Development Companies.
"Medical practices want larger treatment rooms that can accommodate the latest cosmetic technology for skin resurfacing and cellulite treatment," said Joseph Simone. "As the laser technology improves and delivers better results, we're seeing skyrocketing demand for laser treatments nationwide."
According to the American Society of Plastic Surgeons' 2020 statistics, total cosmetic procedures grew 131 percent between 2000 and 2020. The cosmetic procedures with the biggest growth over the 20-year period were minimally invasive procedures including laser skin resurfacing (483 percent) and cellulite treatment (261 percent). Surgical procedures with the biggest growth over the 20-year period include cheek implants (938 percent) and upper arm lifts (4,174 percent).
"Many of the medical facilities we have delivered in recent years include dermatology-office and cosmetic-surgery floor plans, including the Hutchinson Metro Center in the Bronx, N.Y. and WESTMED locations in Purchase, N.Y. and Greenwich, Conn.," said Joseph Simone. "Simone Development Companies expects to continue new construction or renovation that includes dermatology and cosmetic surgical offices and operating rooms."
The use of non-invasive procedures to slow the signs of aging are on the rise. According to the American Academy of Facial Plastic and Reconstructive Surgery (AAFPRS), the pandemic created a surge in surgical demand not seen in recent years. Even though many non-essential surgeries and aesthetic services were put on hold for months during the pandemic, AAFPRS members note that demand grew higher than ever.
"People are staring at themselves on screens during teleconference all day," said Joe Simone. "That's why so many people are seeking options like eyelid procedures to look less tired on camera. With remote working expected to increase in the future, it's a sure bet more people will want to improve their appearance and seek medical solutions."
BRONX NY (August 2021) — Healthcare real estate developer Joseph Simone says that the declining rate of hospital stays is prompting providers to seek new revenue models involving elective surgery and outpatient services.
"For the past four decades we've seen a remarkable decline in average hospital stays that is reshaping the medical landscape. Many hospitals have closed while those that remained open have launched multi-million-dollar expansions to help them replace the revenue from declining hospital stays," said Joe Simone, President of Simone Development Companies.
According to statistics from the Centers for Disease Control, the average length of a hospital stay declined nationally from 11.4 days in 1975 to 6.1 days in 2014.
"These government statistics are the reason why my company built the New York metro region's first 'bedless hospital,' an 11-story facility in the Bronx that focuses on outpatient medical services that include surgery," said Joseph Simone, referring to the 280,000-square-foot Montefiore Ambulatory Care Center. "Increasingly, we are seeing the construction of similar centers throughout the region and nationally."
Hospitals are spending big money on new ambulatory centers as outdated sick wards receive fewer extended-stay patients. In Harrison, NY situated in the heart of Westchester County's "Medical Mile" along I-287, Simone recently completed 104 Corporate Park Drive, a state-of-the-art pediatric ambulatory care facility custom designed for Montefiore Medical Center.
"These centers are critical for aging hospitals as they seek to upgrade their delivery of high-quality, specialty care," said Joe Simone. "Today's healthcare consumers are demanding higher levels of service and comfort from hospitals, which means that developers and landlords must pay special attention to building design."
104 Corporate Park Drive
Harrison, NY
Adding to its growing presence along Westchester's "Medical Mile," Simone transformed the former corporate office building into a state-of-the-art specialty care facility for Montefiore Health System. The new, four-story, 115,000-square-foot center at 104 Corporate Park Drive provides local families with world-class treatment that is close to home.
FOR LEASING INFORMATION, PLEASE CONTACT: